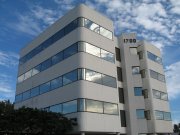 Royal Palm Towers, 1700 S Dixie Hwy, Ste 510, Boca Raton, FL 33432 SHOW MAP
Office:(561) 306-9378


Fax:(561) 210-4262


Company History
West Real Estate, Inc. was formed in May 2002 by Zak West and a team of highly experienced professionals. Prior to becoming CEO, President and Managing Broker of West Real Estate, Inc., Zak was amongst the Top 20 Coldwell Banker Commercial NRT Brokers Worldwide, the youngest General Manager in the hundred-year history of NK Properties Ltd (a property development company listed on the Johannesburg, London and Paris Stock Exchanges) and the youngest Estate Executive ever at Barclays Bank. Zak holds international degrees in Political Science and Law and a Master's Degree in United States Tax Law, Summa Cum Laude. Zak received the Coldwell Banker Commercial NRT Broker of the Year Award, the President's Award for Service Excellence, the International President's Elite Award, the Circle of Distinction Award and the Multi-Million Dollar Club Award. Zak has been featured on HGTV and Florida Realtor Magazine and is a bestselling author.
Areas Serviced
Headquartered in beautiful Boca Raton, Florida, we are perfectly positioned to personally service the entire Southeast Florida, all the way from the Florida Keys to the Palm Beaches and beyond. However, due to our extensive referral network - cultivated, nurtured and tested over a period of more than thirty years - we are able to assist our clients in all their real estate needs, not just in the entire Florida, but also the rest of America, and indeed worldwide.
Expertise
True to our slogan "Professionalism At The Highest Level," we have been privileged to assemble a team of professionals who are not only the ultimate experts and specialists in all areas of real estate, but who treat all our clients as if they are indeed our only clients. In addition to years of experience, our qualifications include numerous degrees in politics, law, taxation and business, as well as numerous designations including Realtor, ACRU (Accredited Commercial Real Estate Underwriter), Mortgage Broker, Notary Public, ABR,CIPS,CRS,e-Pro,GRI and TRC.
Real Estate Services
We cover the entire spectrum of real estate services, including but not limited to commercial and residential sales, leasing, management, short sales, foreclosures, REO (Real Estate Owned) and BPO (Broker Price Opinion).
Mission Statement
West Real Estate, Inc. comprises a group of likeminded individuals striving towards a common goal. It is therefore the mission of our group to: always treat our fellow employees, associates and, most importantly, our customers and clients, with honesty and integrity, in a sincere effort to earn their trust; deliver the highest quality products and services at a fair and competitive price; recognize and act on our responsibilities to our community and to our fellow man; apply the Golden Rule in all our business practices and applications; most importantly, to do these things above any material or monetary consideration.
Direct Address For This Page
http://offices.floridarealtors.org/1021213
Primary Specialties
International - commercial, International - residential