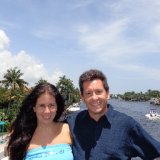 Highland Beach, FL 33487 SHOW MAP
Office:(561) 908-2474


Phone:561-715-0314


Company History
In 2004 Ben & Mayra Stern opened their own real estate company: Stern Realty Co. Ben and Mayra Stern specialize in luxury real estate, waterfront, and beachfront properties. They speak English, Spanish, French, Dutch, and a little German.
Areas Serviced
Boca Raton, Highland Beach, Delray Beach, Boynton Beach, Ocean Ridge, Gulf Stream, Briny Breezes, Manalapan, North Ocean Blvd, Palm Beach, Hillsboro Mile, Hillsboro Beach, Lighthouse Point, Pompano Beach, Deerfield Beach, Parkland, Coral Springs, Coconut Creek, Coral Springs, Ft Lauderdale, Lauderdale By The Sea, Weston, and other areas of Palm Beach & Broward counties.
Expertise
Ben Stern received his real estate license in 1990. Ben worked for Better Homes and Gardens (GMAC) for a year. In 1991 he joined Luxury Homes Realty (later Century 21 - Luxury Homes) as manager of the new rental department. Benjamin Stern became the Corporate Housing Director for Century 21 in South Florida. He worked with Motorola's International Human Resource Department to provide temporary housing accommodations to Motorola employees, as well as assisting employees with look-see trips, settling-in services, home buying & selling. Benjamin Stern played an integral part in the relocation of MCI, ADT, Sensormatic, Office Depot, Nextel, Sun Microsystems, and several other companies. Mayra received her real estate license in 1996. Mayra worked for Century 21 - Luxury Homes from 1997 to 2000. In 2000, she transferred to Realty Executives. In 2004 they opened their own real estate company: Stern Realty Co. Ben & Mayra specialize luxury real estate, beachfront, and waterfront properties.
Real Estate Services
Luxury condominiums & homes. Vacation homes. Second homes. Beachfront. Boating communities. Waterfront properties. Country club communities. Luxury rentals.
Comments
Benjamin E. Stern was born in Brooklyn, New York. Mayra Ottati Stern was born in Caracas, Venezuela. There are many qualities and skills that go into being an excellent real estate professional - integrity, in-depth community and market knowledge, marketing savvy, effective negotiation skills and a high-quality professional network, all of which are hallmarks of how we work.
Direct Address For This Page
http://offices.floridarealtors.org/sternrealty
Primary Specialties
Residential - single family home resales, Residential - waterfront / luxury
Language Spoken
English, French, German, Spanish, Dutch
Market Areas
Boca Raton, Boynton Beach, Briny Breezes, Coral Springs, Deerfield Beach, Delray Beach, Fort Lauderdale, Gulf Stream, Highland Beach, Hillsboro Beach, Lauderdale By The Sea, Lighthouse Point, Manalapan, Ocean Ridge, Palm Beach, Parkland, Pompano Beach, Sea Ranch Lakes, South Florida, South Palm Beach, West Delray Beach