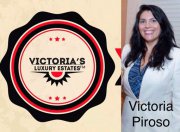 Contact Information
340 Royal Poinciana Wy 328 444 Palm Beach, FL 33480 SHOW MAP
Office:(561) 705-7355


Phone:(561) 360-5495


Other:(561) 837-1431
Company History
Palm Beach Florida real estate office Victorias Luxury Estates, serving buyers and sellers since 2002 Founding Broker Victoria Piroso REALTOR - 100% Woman Owned Business If you're looking to buy a property in Florida or wanting to list your property for sale, contact Realtor Victoria Piroso today. Victoria Piroso's record-selling achievements in real estate and unrelenting work ethic earned her the number one spot in luxury real estate sales and the distinction of named one of the top real estate professionals in Florida. Victoria's Luxury Estates real estate office aims to provide buyers and sellers with personalized and high-quality service, Florida licensed Broker Victoria Piroso's expertise and her twenty five plus years of experience selling the Florida luxury real estate market are unmatched.
Areas Serviced
Palm Beach Florida Jupiter Florida
Expertise
25+ years listing and selling luxury property in Palm Beach Florida.
Real Estate Listing & Sales Services
Real estate listings Real estate luxury sales Real estate sales associates & agents affiliated with Victorias Luxury Estates real estate office and Broker/Realtor Victoria Piroso do NOT manage properties and are NOT associated in any manner handle foreclosures, time shares, selling mobil homes, Airbnb and/or VRBO. Victorias Luxury Estates real estate office solely sells real estate and lists real estate for sale and listing properties on the Palm Beaches MLS - Florida Multiple Listing Service
Trademark & Copyright Notice:
Victorias Luxury Estates is a Florida licensed real estate office in Palm Beach Florida a registered Trademark. All company logos, pictures and names are registered to Victorias Luxury Estates Broker of Record Office Owner Victoria Piroso REALTOR and may not be reproduced or reused without written permission. 2000-2023 All Rights Reserved. Victorias Luxury Estates LLC Florida Realtors
Direct Address For This Page
http://offices.floridarealtors.org/victoriasluxuryestates
Primary Specialties
Residential - single family home resales, Residential - waterfront / luxury
Language Spoken
English, Italian, Spanish
Market Areas
Jupiter, Jupiter Inlet Colony, North Palm Beach, Palm Beach, Palm Beach Gardens